Alphi on the R. Coln
The R. Coln was quite an interesting test for Alphi. Relatively fast flowing and shallow, we were swept along at a good pace, this time untethered and therefore subject to the vagaries of the currents and eddies. We nearly got stuck on one particularly shallow bit but succeeded in moving on without getting wet feet!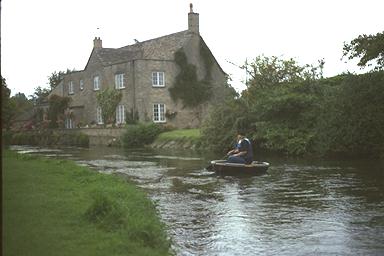 (click on the picture for an enlargement [58K JPEG])
A coracle is probably the only form of boat (other than small inflatables) capable of moving here due to the lack of depth in many places, so it was a bit of a surprise to much of the wildlife to see a boat on their river.
---
Links:   Gallery page   Aardvark Home Page   George's Canal Pages  
---
© 1998 Charles R.W. Lyne


Page designed by Charles R.W. Lyne.  Any comments may be directed to: webmaster@aardvark-world.org.uk   
Page last updated 11th Sept. 2000.