Alphi on the R.Teifi
Alphi's first proper outing on a real river, the Teifi in S. Wales, renowned for its coracling history.

This was just below the famous Cenarth Falls, near to the National Coracle Centre which was the prime reason for our trip to S. Wales, and a very worthwhile day out.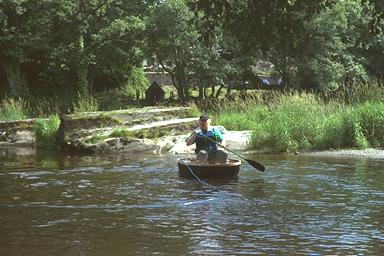 (click on the picture for an enlargement [97K JPEG])
The sharp eyed might notice that the very inexperienced coracler has taken the precaution of tethering Alphi to ensure that the Irish Sea didn't become our ultimate destination!
---
Links:   Gallery page   Aardvark Home Page   George's Canal Pages  
---
© 1998 Charles R.W. Lyne


Page designed by Charles R.W. Lyne.  Any comments may be directed to: webmaster@aardvark-world.org.uk   
Page last updated 11th Sept. 2000.